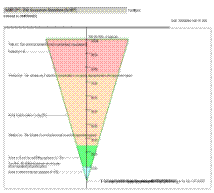 HAMS-GPS Software Package (Hazard Management Systems and General Programs in Safety) is an advanced Windows based software for Process Safety Management (PSM), Environment, Health and Safety (EHS) Management. HAMS-GPS constitute one of the most comprehensive Windows-based software package that conforms to the relevant International standards to study EHS management and occupational health management software
HAMS-GPS Software Package is a professionally built Windows-based software and easy to use and is user-friendly. HAMS-GPS enables from advanced Training to Research-oriented HSE-Management Studies including Quantitative Risk Assessment - QRA (including FAR, FN-Curve and ISO-Risk levels), Accident / incident management analysis, Toxic Gas / vapour, Atmospheric Dispersion modeling - Plume, Puff, Spill Pool evaporation, HAZOP Study software, Emergency Management Planning and Control, PROBIT computations, Percent and Absolute Fatality, Injury computations, Fire Modeling (Pool Fires, Jet Fires, Flashfire, Fireball) and Explosion Modeling ( BLEVE, Confined, Unconfined vapour cloud explosion (UVCE) underground explosion, Mechanical explosion, Dust Explosion ), Explosion Prevention (Inerting, Safety Audits Static, Charge development), stack dispersion, Oil/Gas well blow out scenarios, Fire load calculation software, SWOT analysis, ASCLAP-Distribution, Safety manual review, QRA-review, Hydraulics, Industrial Work Hygiene index, DOW/MOND index, Fire & Explosion computations, Developing and Establishing an Integrated System on EMS & OHSMS under International Standards, on Personal Health and Fitness and more.
A comprehensive software for Quantitative Risk Assessment Studies With Mapping of Hazard zones on your layout plan/Google maps. More...
In all our Dispersion modeling we have very advanced algorithms to locate user defined concentration reached from the source from the time of release so no receptors or grid required. Our software can also take component/Mixture gases heavier than air like H2S, Chlorine etc..
Comprises of Expert EHS softwares: Toxic Gas, Air Dispersion modeling, Fire modeling, Explosion modeling, Stack dispersion, DOW/MOND-Index, Safety-Audit, ASCLAP, SMOD or Release module based on computational fluid dynamics (CFD), Risk Assessment, EMP Evaluation, Dispersion with PRTOBITs, Dust Dispersion and Settling, Accident Analysis, Fire Analysis, Limits curve, Absolute Fatality/Injury (Dispersions, Explosions and Fire-Balls), OHSMS- Evaluation against OHSAS-18001 (Database), House Keeping Evaluation, Unitcon (Unit conversion) and More..

Unique Features of HAMSAGARS HAMS-GPS EHS-Software Package and comparison with Netherlands QRA Methods

HAMS-GPS EHS software has been used in some of the overseas consultancy projects and following is a brief list of the same

Work done by HAMSAGARS in various industries in safety and related areas Using HAMS-GPS EHS Software
Watch Demo (Google Chrome browser required)
Dispersion with PROBITS

(Accidental release of hazardous chemicals)

Explosion Module

Fire Module

FN-Curve, ISO Risk, ALARP and RBI Matrix Module

Recalculating rate of release

Machinery Risk Assessment

HAZOP Software

(Advanced)

Stack gas Dispersion Module (EIA)

Air dispersion modeling

Complete DEMO on Quantitative Risk Analysis / Assessment - QRA Study Softwares
View sample report

"Manual of EHS-Management" (A Couple of hard copies available 2004 edition as the book is out of print) an advanced book on Environment, Health and Safety (EHS) Studies and training in a wide range of large, medium and small scale industries involving Petroleum, Petrochemical, Pharmaceutical, Heavy chemical, Pesticide, Oil exploration, Onshore and offshore Petroleum production, Petroleum refining, Hotels, Printing presses, Electronic industries, mechanical and so on,

Now available for on-line reading

E-Reading Download free demo (3.7 mb)
Download DEMO (26 MB)

Advanced HAMS-GPS QRA modeling software View HELP file

HAZOP study Software View help file .

PC-Requirement:

HAMS-GPS Software will run on minimum: - 2.93 GHz speed or above, OS- Windows 8, 8.1, 10.11 Internet Explorer 5 or later, 250 MB free hard disc space, MS Office installed, display setting - 1366 x 768 resolution, True color. Runs on 64bit computers. Active Internet connection required

Installation procedure on YouTube https://youtu.be/dAeJdeq-MEk

Download Full Demo HAMS-GPS EHS software (File size 140 mb)


Very Important: Administrator Rights required and Anti-Virus trust is required for HAMS-GPS installed files and folder to run our software 

Dispersion

(DEMO-Standard module)

Explosion

(DEMO-Standard module)

Fire (DEMO-Standard module)

Unit conversion

(Working)

Pool Area Calculator

(Working)
We also undertake advanced customized PC-Software development and Database Software Projects for individual organizations.
HAMSAGARS

9202, B-9, Masoodpur, Vasant Kunj, New Delhi (India) 110070

E-mail hamsagar@rediffmail.com

hamsagars@gmail.com

Skype Name : hamsagars

M- +91-7011163021

(We do not confirm anything on the phone, so we request you to send emails only)

Timing : Monday to Friday 9 am to 6 pm India time


`

`Our Softwares and computers are scanned by updated Antivirus

Web designed maintained by Hamsagars